This week, I finalized the (tentative) top level categories for understanding/ explaining data policy:
Legal policy- compliance with national and local law, compliance with other guidelines, liability

User agreement- agreement type, accessibility
Privacy policy- for website visitors, for registered users, for aggregate data
Terms of use- copyright, attribution
I also selected a metaphor suitable to represent these categories to the public. Two versions are below: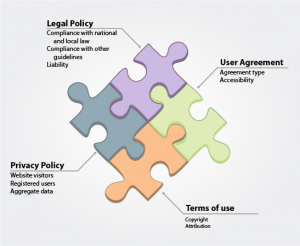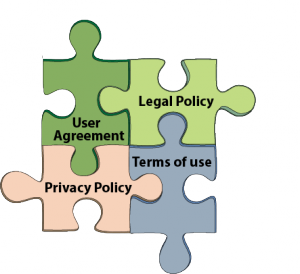 In some ways, I prefer the first graphic because it has a slightly more professional feel and includes clearer labels. This would be ideal for delivery as a part of a larger report in PDF form. On the other hand, the setup of the second puzzle makes it very easy to use HTML mapping to turn each piece into an interactive link– see, for a prototypical example, this page on the citizenscience central website. Therefore, this graphic is better for inclusion on a web page.
Either puzzle could be expanded to explore the relevant related pieces of data policies: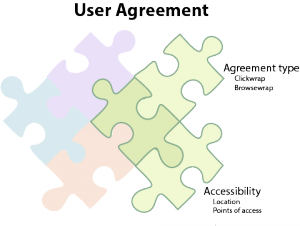 While it would be nice to use two different graphics for two different modes of content delivery, I think I really need to settle on a single image for the sake of branding consistency.  I would love to hear some feedback on which graphic is more effective at conveying the puzzle piece metaphor in a fun, accessible way.