Happy Friday!
I started out this week with a bit of a setback. I began linking the database I created containing all the articles produced by those affiliated with DataONE to all the citations that cite those articles (henceforth referred to as Cited By articles). While I was doing this I noticed that the citation numbers for each article that I had manually entered last week did not match up with the DOIs. I realized this was because I sorted by range rather than column in Google Drive. When you sort by range in Google Drive's "spreadsheets" it only sorts the content you've selected and doesn't expand the sort across associated cells like Excel does. This required me to replicate all the work I did last week this week. Ugh!
Anywho, after I fixed the citation counts for the DataONE articles I finished linking the database to the Cited By article listings. Then I started to run some preliminary bibliometrics analysis using the R package Bibliometrix. To do this in R, I first had to upload the Bibtex files I extracted in Web of Science and Scopus and then merge them into a data frame. Once merged, I was able to run the different arguments. Here are some general recommendations when exporting files for analysis from Scopus or Web of Science:
Create an account in each database and as you're searching add all the citations you want to export into a list.

This ensures that if your website or internet crashes or closes you won't lose any of your work.

Make sure that you export the full record.

In Scopus this means selecting all columns, not just the citation metrics columns.
In Web of Science this means selecting the "full record and cited references" option.

Export the saved articles from your list as Bibtex AND plain text files as different Bibliometrics programs require different file formats (I learned this the hard way)
Listed below are some preliminary results and visualizations. I do need to double check the data as the Scopus files seem to be a little messy. Web of Science is the recommended database for running bibliometrics analysis in the program as it has better field tags and formatting. However, Scopus is much more comprehensive and contained a considerable amount more coverage regarding the DataONE articles. It also reported higher citation by citation counts. Therefore, we used Scopus as the main source for cited by articles and used Web of Science when the article could not be retrieved in Scopus. The total number of articles I was able to cull from Scopus and Web of Science was 115 out of the approximately 236 total articles in the database.
Annual Scientific Production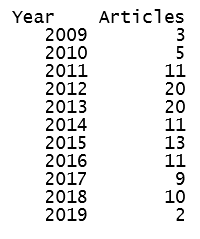 Most Productive Authors

Most Cited Articles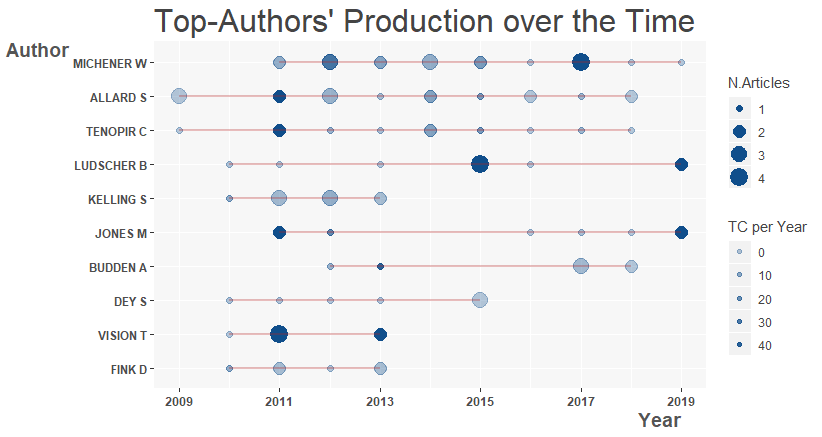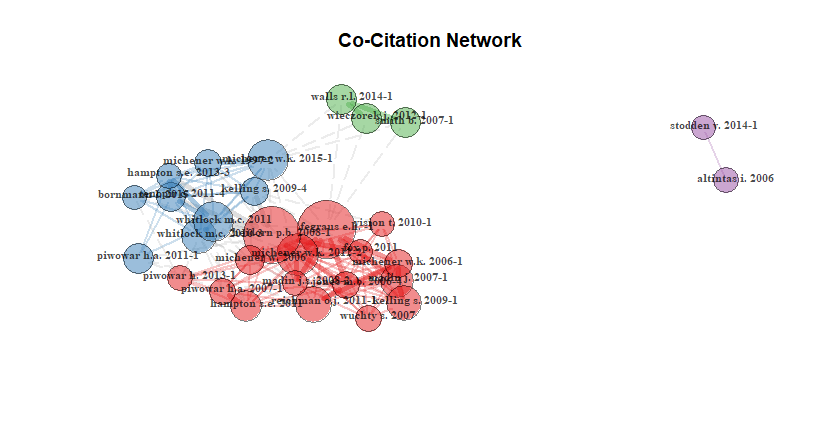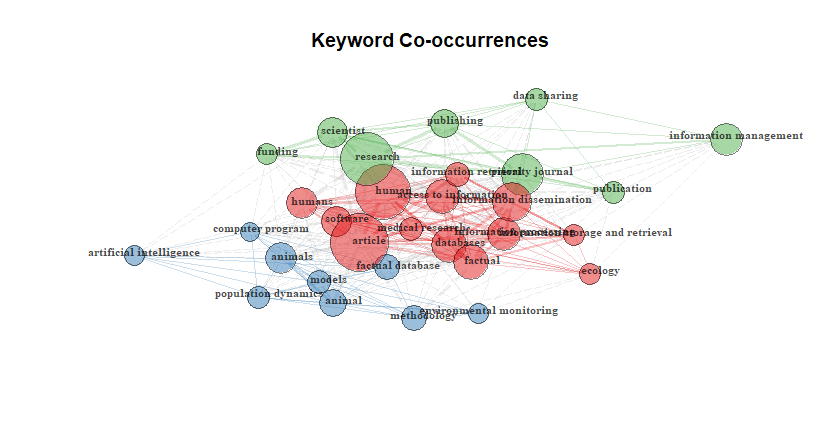 I'd love to know what you think about the results! As well as any other information you'd like to know. I will be rerunning this analysis in Bibexcel, VOSviewer, and maybe Pajek. I'm not loving the Bibliometrix package but that is probably due to may lack of experience with R. Next week, I'll have some more results for you all.