This week I attended the DataONE All Hands Meeting in Albuquerque. On the first night, we unveiled some Data Stories products at the intern poster session. Throughout the night we had many people stopping by to hear about the project, our progress, and ask questions about the interview and story creation process. The feedback we received was overwhelmingly positive, and it was so nice to have such a large group of people interested in what we are doing. We even recruited a few folks to share their data stories with us!
The last 3 days have been very productive, and Stacy and I both feel like we have made a lot of progress on the Data Stories products. Together, we revised and completed many new data stories which will soon debut on our blog. So far we have collected a total of 18 interviews – 3 of which were conducted right here at the AHM.  In addition to these, we also scheduled future interviews with DataONE contributors. I expect to add these to our growing collection in the next few weeks.
Stacy and I also spent time analyzing existing interview transcripts to identify patterns of data management and data sharing experiences. These observations are being added to our story conflict concept map, which will continue to expand as we collect more stories.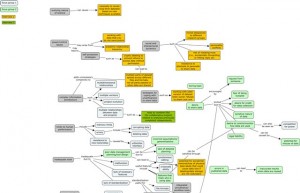 Overall, the AHM was a tremendous opportunity for us to network with other people in the data community. We were able to talk with other working groups, spread the word about our project, and drum up new interest in story contributions. Thank you to everyone who offered their support and enthusiasm during the meeting!