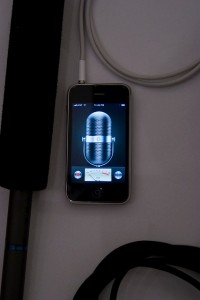 First update: Our IRB Application has been approved! We are now ready to schedule and recruit for our first focus group which will be held at NCEAS on Friday, February 15, 2013 at 4pm. I will be publicizing for this focus group on the NCEAS Roundtable blog and informing participants about what topics and questions we would like to discuss. I will also email participants a reminder about the Roundtable and send them a copy of the consent form they will be asked to sign before the focus group starts (so if you are a member of NCEAS, check your inbox for an email from me soon! 🙂 )
Now about recording and transcribing equipment and software, we have decided that we will use our iPhones and MacBooks to record the focus groups and interviews. Stacy and I both already own an iPhone and Macbook (cost efficient) and this will also allow us the capability of performing two different focus groups simultaneously. We have tested the iPhone and Macbook speakers and recording functionalities and they are both able to pick up voices very clearly, even from pretty far distances. Also, we have found a quick way to download the audio files from the iPhone onto the Macbook.
This week I have worked on our data management plan for our project using the DMP Tool. The DMP Tool, developed by the University of California and other research institutions, helps researchers generate data management plans that are specific for funding agencies. I found the plan to be very user-friendly, clearly laying out what information I needed to produce and even providing me with example answers and sample plans. This was my first time using the DMP Tool and I believe it was extremely helpful in creating a thorough, well thought out data management plan that will be very beneficial for the duration and future of our study. Using the DMP Tool has heightened my awareness on the importance of how detail oriented one must be when planning a study and recording data. Although it is a time commitment to properly set up a data management plan, I know it is worth the rewards of being able to refer back and clearly understand the layout and organization of your study and results, and allowing others the same benefit if they would like to learn about and understand your study as well. I feel that after going through this tool, even just once, I will be better prepared and aware of the information I need to be thinking about when planning and organizing a study, allowing me to more efficiently go through this tool the next time.
Our initial plan for our study was to use the DataUp tool to help us manage and share our metadata. However, I want to take a moment to discuss the DataUp tool and why we will not end up being able to utilize this resource for our project. DataUp helps researchers document, manage, and archive their tabular data. DataUp comes in two forms: Add-in or Web application. The Add-in is a piece of software that you download to extend the capabilities of Excel, however, it is only available for Windows operating systems format. For our project we will be performing all of our transcribing on a Mac so this form is not compatible with our data format. The Web application is a website that you provide with information or files, and it takes those and transforms them. Some of our information for our study is confidential and needs to be altered before we make the information and files public. For this reason, we cannot ethically utilize this alternative form either. Although we have found another way to store (shared access to a local server that is password protected) and document (creation of separate metadata files) our data, it is unfortunate that due to the limited forms of DataUp, we cannot use this great resource that offers many helpful features. Using our study as an example and also the fact that Macs are becoming very popular with the younger generation, I think DataUp should consider making its program functional with Mac operating systems format as well. This would open up even more options and promote data management and sharing to a broader audience.
I will write another blog post after the first focus group and provide further updates on the project's progress.